This page provides information on ongoing research projects I am involved in.
Innovations in dairy value chains in Uganda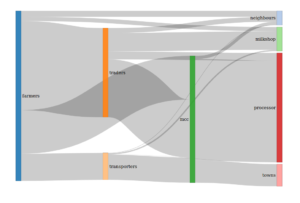 The dairy sector in Uganda has undergoing substantial changes over the last few decades. A combination of policy changes, the injection of foreign direct investment, changing diets of an increasingly demanding urban and rural population and technological progress have substantially altered the entire value chain over time. Using a combination of primary and secondary data on different actors of the value chain, we look at key drivers of value chain development. In particular, we compare a modern, export oriented value chain to a value chain that is much more oriented toward local dairy consumption, and compare a range of technological and institutional innovations at various levels in the chain. This is joint work with Jo Swinnen and Bart Minten.
Information and communication technologies (ICTs) to provide agricultural advice to smallholder farmers: Experimental evidence from Uganda
Agricultural advisory services generally rely on interpersonal knowledge transfers in which agricultural extension agents visit farmers individually or in groups to provide information and advice. This approach is not always effective and has often proved hard to bring to scale, particularly in highly dispersed smallholder farming systems. Information and communication technologies (ICTs) have been advanced as a promising way to overcome these problems associated with information delivery. We evaluate the effectiveness of an ICT-mediated approach to deliver agricultural information in a field experiment conducted among small-scale maize farmers in eastern Uganda. The approach consists of three complementary technologies: First, we investigate the effectiveness of video as a means of delivering information, transferring knowledge, increasing technology adoption, increasing productivity, and improving well-being. Second, we quantify the additional impact of augmenting video with interactive voice response (IVR) technology—a more demand-driven approach to information provision. Third, we estimate the additional effect of time-sensitive short message services (SMSs) that remind farmers about key agronomic practices and technologies. We find that video is effective in delivering information, with households that were shown short videos on how to become a better maize farmer performing significantly better on a knowledge test, applying more of the recommended practices, and using inputs more effectively than households that did not see this video. These same households also reported maize yields about 10 percent higher than those that did not see the video. However, the incremental effects of IVR and SMS technologies were found to be limited. This research is joint with Els Lecoutere and David J. Spielman. A working paper can be found here.
The Role of Gender in ICT-mediated Agricultural Information Campaigns
In agricultural information dissemination campaigns through agricultural advisory services, seemingly small design attributes, such as the way the information is delivered, who delivers the information, or who is targeted by the message, can result in significant differences in effectiveness and inclusiveness of the intervention. In the context of Information & Communication Technology (ICT) mediated knowledge transfer, this study investigates the importance of the gender composition of the person(s) who provide(s) the information and the gender composition of the person(s) who receive(s) the information. In particular, we set up a field experiment among smallholder maize farmers in Uganda to assess if reducing asymmetric information within the household leads to improved outcomes. In addition, we study the effectiveness of promoting a more cooperative approach to household farming. Finally, we test for gender homophily effects, where female farmers learn more from female trainers. Effectiveness is assessed in terms of knowledge gained, adoption of modern inputs and recommend practices, yield, and poverty reduction. Outcomes are dis-aggregated by gender to study changes in intra-household equity and women empowerment. While endline of the study is planned for February 2018, we preview encouraging effects on knowledge transfer as measured immediately after administering the treatments. This research is joint with Els Lecoutere and David J. Spielman.
Improving seed selection and storage to increase yields among Ugandan potato growers
Pervasive use of poor quality seed remains an important reason for low yields throughout the developing world. We attempt to increase the quality of the local stock of seed tubers among a sample of Irish potato farmers in Uganda. We do this by providing agricultural extension information about (i) how to select the best seed tubers and (ii) how to properly handle and store the seed potatoes until the next planting season. The information is provided through appealing videos, shown to individual farmers on mobile devices. While we find some effects on knowledge immediately after having shown the video, this effect has vanished one year later. We also find no effect of the videos on practices, input use, and final outcomes such as yield and consumption. However, there are signs that spillovers between treatment and control farmers may affect our results. After modeling spillovers among neighboring farmers, we find evidence that especially the video containing information on seed selection translated into adoption of improved practices, higher yields and increased welfare. This is joint work with Senne Vandevelde and Wilberforce Walukano.
The Role of Information in Agricultural Technology Adoption: Experimental Evidence from Rice Farmers in Uganda
Optimal decision making among the poor is often hampered by a lack of critical pieces of information, false beliefs or wrong perceptions. We investigate the role of information deficiencies in the decision to use modern inputs and adopt recommended agronomic practices among rice farmers in Uganda. Using field experiments, we test if the provision of technical information concerning the existence and use of modern inputs and practices affects awareness, adoption and production. In addition, we test if providing information aimed at changing the perception of returns to such intensification investments leads to different outcomes. In both experiments, the treatments take the form of short agricultural extension information videos that are shown to individual farmers using tablet computers. While we find videos do seem to increase awareness and influence beliefs of rice farmers to some extent, practices and production generally seem unaffected. We provide some clues as to why we find little impact on outcomes. This is joint work with Wilberfore Walukano, Fiona Nattembo, Lydia Nazziwa-Nviiri and Jaap Blom. This work resulted into an
IFPRI Discussion paper
.
Impact Evaluation of the Community Advocacy Forum (baraza) in Uganda
The baraza project, initiated in 2009, is a government-led initiative in Uganda that aims to increase the quality of public service delivery through the provision of information and the involvement of beneficiaries in project monitoring by means of providing citizens with an advocacy forum. We investigate the impact of this intervention using a cluster randomized control trial involving more than 12000 households. In addition to testing whether district level barazas are as effective as sub-county level barazas, we also study the relative importance of information provision and deliberation within a baraza event. Currently, the baraza interventions are being rolled out nationwide. This study was funded by the International Initiative for Impact Evaluation (3ie) and is joint work with Nassul Kabunga and Tewodaj Mogues. A discussion paper documenting a qualitative self-assessment of two barazas has already been published as the following IFPRI Discussion paper.